The word "win" has become foreign when discussing Australian cricket, unless followed by "without counting the cost". But a team that appeared to have forgotten how to win reached deep into their memory bank to pull off an unlikely success.
It may only be their fifth from their past 22 games – a record that in the nation's major football codes would have them either on the bottom of the ladder or very close to it – but they taste sweeter when they are rare.
Loading
Such a result seemed unlikely after Australia were rolled for 231 – a total that most pundits had felt was 50 too few – after failing to bat out the 50 overs for the sixth time in the seven matches that Justin Langer has presided over. At least this time the bowlers had something to defend.
The big three of Mitchell Starc, Josh Hazlewood and Pat Cummins sowed the seeds for the fightback while all-rounder Marcus Stoinis, who had already run out young gun Aiden Markram, landed crucial blows late.
The Proteas steadied after slumping to 4-68 and looked in control of the game while skipper Faf du Plessis and David Miller were at the crease, the pair adding 74.
With the game slipping away, Cummins again showed his ability to take wickets against the flow, luring du Plessis to flay at a wide one which he dragged onto his stumps.
"We should have extended that partnership further and finish the game off," Miller said.
Australia edged ahead when Miller was given out on review for 51, with South Africa still 45 runs short.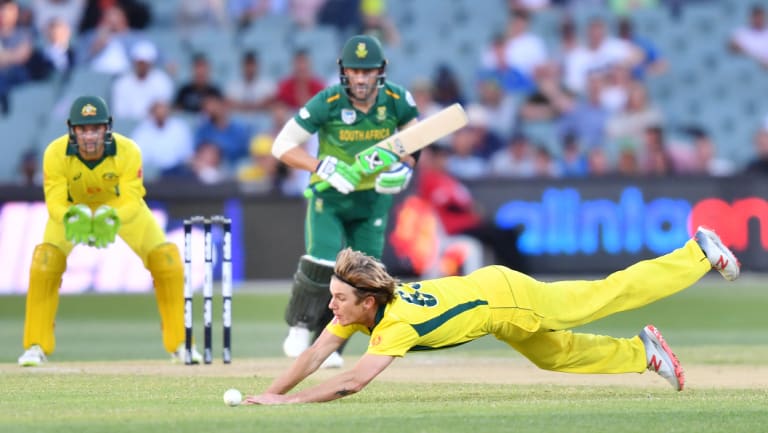 Maxwell's first ball in the final over went for four but he was able to close out the game.
Loading
The win will give Australia belief that they can match it with the best without Steve Smith and David Warner, though their battles with the bat cannot be swept under the rug by their heroics with the ball.
The Proteas' batting is also far from the finished product and such is the crowded international schedule they will not always have their star quicks to rescue them.
The fact remains Australia does not have a player in the top order who consistently sets games up by batting long periods.
But there are positives. Alex Carey, in just his fifth game, showed why he has been made vice-captain so early in his international career with a measured 47 which demonstrated both his talent and an awareness of the game situation.
Chris Lynn, in just his third one-day international, showed glimpses of the power hitting that has made him a star of the Big Bash league, crashing a run-a-ball 44.
His reckless dismissal – gloving a ball he tried to smoke having already crashed 18 off the over – would not have pleased the coaching staff but at least he had inexperience as an alibi.
Not so World Cup winners Finch and Maxwell or veteran Shaun Marsh, who were all guilty of poor shot selection. All three had made starts without kicking on.
Andrew Wu writes on cricket and AFL for The Sydney Morning Herald
News