1) Mourinho to play the freedom fighter against under-fire City
The moments Jose Mourinho has cherished most in his career are those when he could thumb his nose at expectation and the established order. Wednesday night's post-match gurning and chuckling in Turin showed he has lost none of his appetite for personal vindication and vindictiveness. Such occasions were in short supply at cash-rich Chelsea, an Inter Milan dominating Serie A or when managing Real Madrid. And his attempts to paint Manchester United as bedraggled underdogs have usually defied credibility. Sunday at the Etihad, though, is an occasion he can paint himself as a freedom fighter. The Premier League title is all but surrendered barring miracles, City's superiority in Manchester is confirmed but for once Mourinho might have the wider public on side. Those Der Spiegel allegations raining down this week on City's business practices and sources of wealth suggest City have not been fighting a fair fight. They are bound to be brought up by United fans in the Etihad and United's manager would just love to deepen City's discomfort with one of those unlikely victories, cup his ear and show off that lopsided wink of his. JB
• Would Pep Guardiola win the title with this Manchester United squad?
2) Klopp's coldness suggests Sturridge's time is almost up
Jürgen Klopp was angry in Belgrade, as well he might. Malfunctions in defence and attack handed Red Star victory and left Liverpool on a Champions League knife-edge. For a manager who can be such a cheerleader for his players, he was noticeably cold on Daniel Sturridge. "The first big chance to Daniel was a very big one," Klopp said of a player hauled off at half-time. That appeared to rule out the striker from starting against defensively shambolic Fulham, ideal opponents for someone seeking confidence and a first goal since September. Klopp needs a reliable back-up for a flagging Roberto Firmino but has never seemed to fancy Sturridge much in three years on Merseyside. Selecting Sturridge suggested Klopp was holding Firmino back for the Premier League, the greater priority this season, but the Englishman's, anxious, wayward performance did himself few favours in proving he is worthy of greater responsibility. JB
• 'Football has to stick together': Coleman on his Sean Cox donation
3) Newcastle hope for another home win after breaking duck
Chalk entertains cheese at St James' Park, with a dark gloom surrounding the home side while the mood at Bournemouth could scarcely be sunnier. Newcastle's many woes have been documented at tedious length, while Bournemouth fans are currently celebrating sixth place in the table, Callum Wilson's 50th goal for the club and – presumably – the baffling lack of interest in their young manager from bigger, richer clubs. It is Newcastle, however, who tasted victory most recently, registering their first win of the campaign at the 11th time of asking against a Watford team who probably should have beaten them. Bournemouth, by contrast, somehow contrived to lose against Manchester United last weekend despite squandering enough chances to put the game beyond them in a first half where their visitors' many shortcomings were at times astonishing to behold. Newcastle finally have something approaching impetus and will hope to build on it at home against opposition they will considerable beatable. While chastened Bournemouth will be eager to put last week's sickening reverse behind them before the international break. While it it may not be the weekend's most mouth-watering feature on paper, a potential humdinger lies in store. BG
• Bournemouth's Wilson wins first England call-up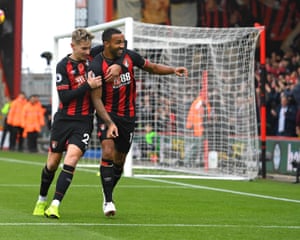 4) Leicester v Burnley
It will be another emotional day for Leicester's players, their first home match since the fatal helicopter crash outside the King Power Stadium two weeks ago. The home players and crowd will be intent on doing their utmost to mark the occasion with dignity and warmth. They will also want to win the match. Burnley will pay their respects and then they, too, will try to win the game, or at least avoid another heavy defeat. If the recent wallopings by Manchester City and Chelsea were excusable, last week's 4-2 drubbing at West Ham was alarming because of how rickety Burnley's once-solid defence looked. Nervousness begat sloppiness throughout the team, leading to mistakes that Burnley can ill afford because they do not have enough creativity to offset goals given away. Burnley are not in the relegation zone but will be soon if they do not improve. PD
• Leicester fans to pay tribute to Vichai at Burnley game
5) Brighton's Ryan can show fans' award was no fluke
It is rare anyone beats an Arsenal player to an award voted for by supporters, but Brighton's Mat Ryan did so when pipping Alexandre Lacazette to the PFA fans' player of the month award for October, announced this week. Perhaps an alliance of Aussie and Brighton fans made sure the usually mobilised Gunners hordes were held off, but Ryan fully deserved his award for an outstanding month of goalkeeping. He kept three clean sheets and did so while being kept busy in saving 17 from 17 shots on target. Only Manchester United's David de Gea and Burnley's Joe Hart had more to deal with, facing 20 each and conceding five and 10 goals respectively. For Cardiff, who scored four of their nine goals so far against hapless Fulham, Ryan presents a significant block to hauling themselves out of the relegation zone. JB
• Changing the lives of 9,000 Kenyan girls through football
6) McKenzie memories and Barkley bite at Chelsea v Everton
Duncan McKenzie, once of Everton and Chelsea among others, was a gifted maverick who could make spectators gasp and even laugh, such was his mischievous skill. He also had an entertaining line in novelty stunts, like throwing a golf ball the length of a pitch or vaulting over a Mini at Paul Reaney's testimonial for Leeds. An opportunity to mention him should never be missed and if this one makes folks check out some of his highlights on YouTube, then our work has not been in vain. Ross Barkley, meanwhile, is no McKenzie but he does have the capacity to thrill and, under Maurizio Sarri, he has started to find enough form to suggest Chelsea's £15m purchase of him from Everton could be vindicated. You can be sure that, if selected, he will be dead set on confirming his progression against his old club on Sunday. PD
• Everton given two-year academy transfer ban for tapping up
7) Palace hope Wembley turf will have sapped Spurs' energy
Crystal Palace played fairly well in defeat to Chelsea last weekend and despite losing seven of their opening 11 games, Roy Hodgson will be reasonably pleased before the visit of Tottenham Hotspur. A stressful and exhausting midweek victory over PSV Eindhoven on a Wembley pitch described by Mark van Bommel as "shit" may result in leaden Tottenham legs, something the Crystal Palace manager will hope to exploit with the speed of Andros Townsend and Wilfried Zaha. The duo played up front to good effect against Chelsea, with Max Meyer and James McCarthy providing width on either flank. With Tottenham likely to enjoy the lion's share of possession, speed on the break will prove key to Palace's chances of success. BG
• Empty seats show Spurs supporters are tiring of being away from home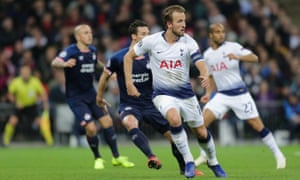 8) Watford to usher Hughes towards Southampton exit
When even Mark Hughes is beginning to run out of excuses it becomes apparent Southampton's manager is running out of road. Thursday's removal of vice-chairman Les Reed and technical director Martin Hunter hinted the club's owners are getting restless. Last week's 6-1 sprawl at the feet of Manchester City did him no favours. Pep Guardiola might have praised the attacking style Saints employed but that only exposed the naivety of their tactics. Hughes' popularity among his club's fans is not helped by a desperate home record. Since taking over from Mauricio Pellegrino in March, supporters at St Mary's have seen just one league victory and none this season. Southampton have meanwhile scored just two goals in seven matches, one of those a consolation at City. Small wonder, then, that fans are expressing approval of a speculative story that Gordon Strachan, who departed the club in 2004, might be in line for a prodigal's return. Even if a Watford win on Saturday does not bring Strachan back, it may well hasten Hughes into history. JB
• The Knowledge: Which match has featured the most Ballon d'Or winners?
9) Hammers' away form gives Huddersfield a chance
Having registered their first win of the season against Fulham on Monday night, Huddersfield have further opportunity to give themselves a decent chance of survival with a run of games in which they entertain West Ham, go to Wolves, host Brighton and make the long trip to Bournemouth. West Ham are ravaged by (mostly long-term) injuries along and Mark Noble is suspended. While Huddersfield's collective spirit is not in question, their lack of finesse in front of goal is a major problem. With West Ham, like Forrest Gump's famous box of chocolates, you never really know what you're gonna get. They have lost three of their four Premier League matches on the road, but trounced this weekend's hosts at the John Smith's Stadium last January. While Manuel Pellegrini's side look to have more than enough about them to stay up, momentum is everything for struggling sides and the outcome of this contest could have a huge bearing on the survival of opponents whose tails are up. BG
• Marina Hyde: FA's novelty player clanger threatens special relationship
10) Wolves must find cutting edge to burst Gunners bubble
Wolves' bright start to the season came to a shuddering halt a few weeks back and they now find themselves travelling to the Emirates on the back of three defeats in a row. But that is no cause for panic: they remain a serious team who will cause Arsenal problems. But they will have to be more clinical than they have been so far to have any chance of gaining a positive result against Unai Emery's side, for whom Alexandre Lacazette and Pierre-Emerick Aubameyang spurn few opportunities. PD
• What is going so badly wrong for Henry at Monaco?